Reset your routine.
revolutionize the future of work.
Be Unexpected
The New Book by Marva Bailer
Available Now at Amazon, Barnes & Noble, and Local Book Sellers
Learn how to create fantastic workplace culture.
Read Marva's latest interview in Authority Magazine.
Marva Bailer is an innovator, a storyteller, a connector, and a fearless female tech leader who is never afraid to disrupt the status quo. As a purpose-driven executive with 20 years of leading billion-dollar teams for global businesses, she embodies servant leadership and a growth mindset through mentorship, experimentation, and the intersection of purpose and passion. 




BEST-SELLING AUTHOR.
FEMALE TECH LEADER.
PURPOSE-DRIVEN EXECUTIVE





Marva Bailer is an inspiration to everyone she meets. She is constantly working to uplift others and has a positive outlook on life and the people she meets. In this book, she shares her secrets to this optimistic internal engine. In these trying times, this is just the insight we all need.
In the debut book from Marva Bailer, you'll learn how to reenergize your work life by resetting routines, rethinking expectations, and revolutionizing the mundane. 
Drawing on years of experience leading and empowering executives and teams, Marva Bailer unpacks tools and secrets to take businesses, boards, and meetings to the next level. Learn how to have a voice, be remembered, and be inclusive at your workplace.
In short: how to Be Unexpected.
From choosing your own walk-up song to fostering meaningful connections with colleagues, Marva provides the ultimate field guide to making work more personal and more productive.
Read inspiring quotes from business leaders and surprising motivators, learn actionable DEI-backed strategies for improving your workplace, and discover how to re-imagine your work life. Gain courage, confidence, and spirit  — even (and especially) when you're not expecting it.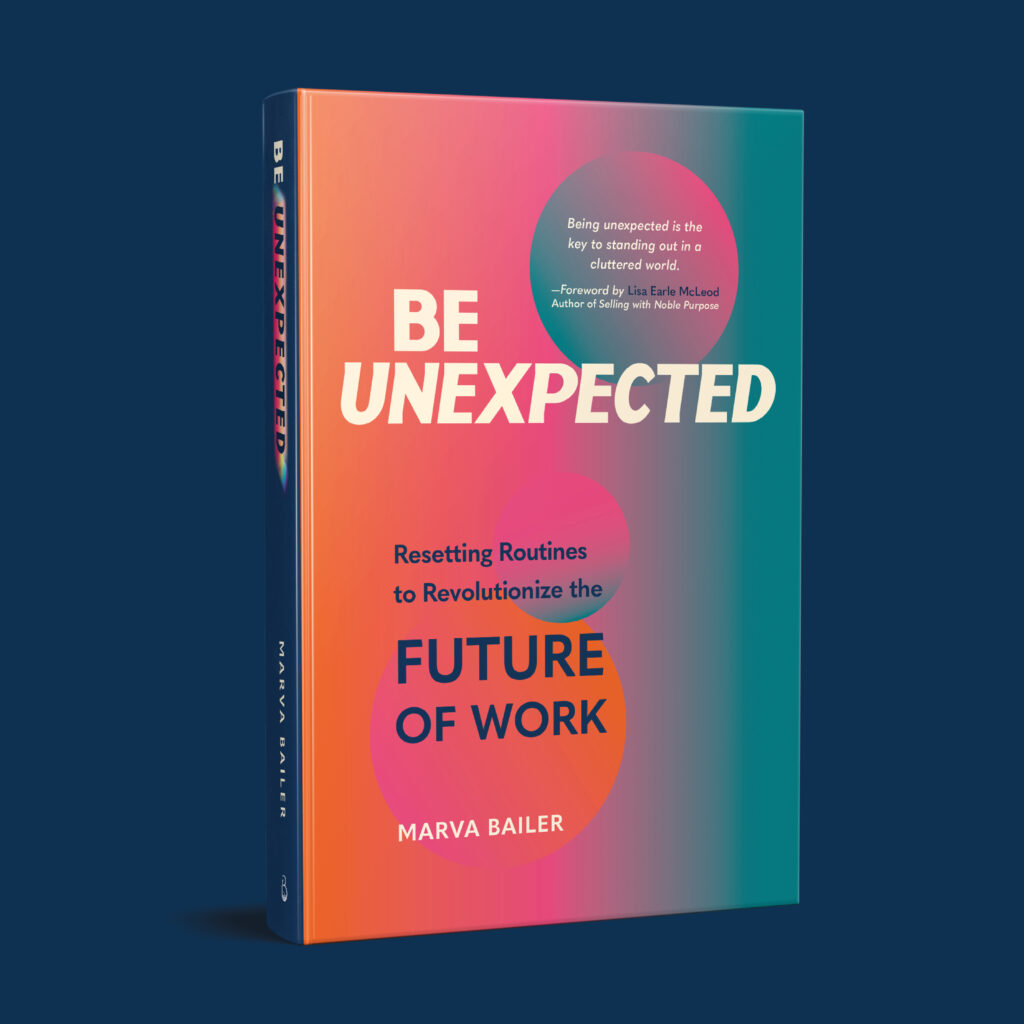 Being unexpected is the key to standing out in a cluttered world.
Connections & Communication
A Fresh Voice to Promote Inclusion in a Multi-Generation Workforce
Marva is an expert business speaker focused on Diversity Equity & Inclusion (DEI), Employee Resource Groups, and Leadership Team guidance. With over 20 years of accomplishments spanning multiple industries, Marva has learned how to use the unexpected to her advantage. As a speaker and coach, Marva enjoys motivating groups of all sizes to improve their work lives through deeper relationships and innovative ideas. 
Contact Marva today to learn more about speaking engagement opportunities.
Start your unexpected journey.